Today was a challenge.  I reached peak-frustration over some fairly minor hiccups.  An entire week of cooking, and then writing about it, is getting to me.
For Saturday's BBQ at a friend's birthday party, I decided I would gas up the joint and bring my favourite bean salad (thank you Kalyn's Kitchen for bringing this recipe into my life).  It is hearty, bright, zesty and best of all… fairly cheap.  Especially so, because I had picked up all the ingredients on my Tuesday Food Bazaar run.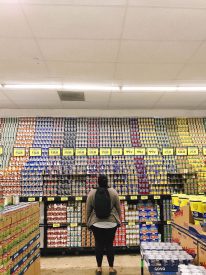 So I set out all my ingredients for the obligatory photo op… but wait… something is missing…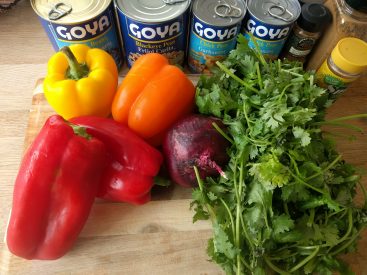 FFFKKKKKK….. LIMES!   One of these days.  One of these days, I'll complete a recipe without having to go to the grocery store more than once.  UGH.  To add insult to injury, I had cracked a joke about sale at Food Bazaar… who would need 15 limes for $2?!  Joke's on me I guess.
I resumed bean prep after a quick run to Food Cellar.  Things seemed incident free until…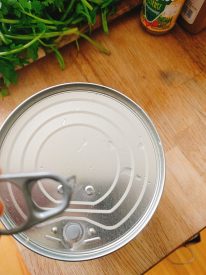 Dear god… why?! why meeeee?
I took a minute to have a mini meltdown, and then put my big girl pants on and continued on…  I made a few altercations to the sauce by adding chipotle hot sauce and honey to balance out the acidity (that sort of made me sound like I know what I'm doing, but I really just saw that on a cooking show once…)
Finally… look at this masterpiece.  If Bob Ross was to paint a salad, this would be it.  I rewarded myself with a tiny bowl — delicious!  And the best part, like a good woman, this salad gets better over time.